Ark: Survival Evolved is one of those Steam Early Access titles that soar to popularity well before it was ever "entire", much similarly that Playerunknown's Battlegrounds has been doing throughout the entire year. I initially found out about the amusement from my nephew really, who gave a quite amazing measure of time to the diversion, and has given me various stories of his adventures with his tribe all through their chance playing the amusement. So I chose with the official arrival of the diversion, alongside the PS4 discharge, I'd at last give it a shot.
To state that I was not well arranged for Ark: Survival Evolved would understate the obvious. I had played survival diversions some time recently, and was no more interesting to the fundamental mechanics. Assemble assets, manufacture garments and supplies, and attempt to enhance your character as you acquire capacities and making formulas all through. In any case, Ark is such a huge diversion, to the point that I was effectively overpowered amid my first couple of hours, and got myself always expecting to restart as I attempted to both remain alive and take in the essential mechanics of the amusement.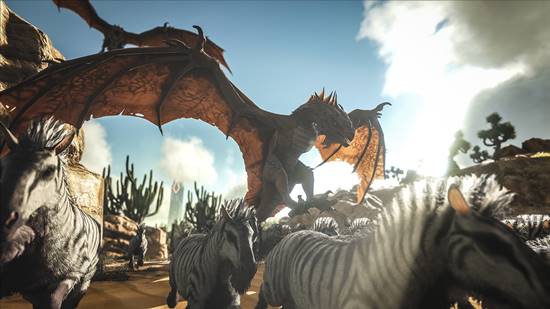 This isn't really a terrible thing, and possibly not that quite a bit of an unexpected going in. In any case, there was surely an expansive expectation to absorb information as far as I can tell with Ark: Survival Evolved that despite everything I don't think I completely have an idea about. Be that as it may, the guarantee of subduing dinosaurs, both of all shapes and sizes, and accessing more present day gear and weaponry, helped keep my enthusiasm up. And keeping in mind that I'd say I'm as yet an, extremely far route from encountering everything that Ark: Survival Evolved brings to the table, I do think I have a better than average handle on the mechanics and thoughts, enough so I at any rate have discovered my balance with the amusement a month or so into discharge.
All things considered, I believe I'm still somewhat off from having the capacity to offer a sufficient audit of the diversion. I can give you a short depiction of my considerations however. The comfort form is somewhat harsh, the PVP and PVE servers have been entirely drowsy, with a sound measure of slack blended in with framerate drops that are as yet display when playing alone. I think the overhaul/leveling framework is superior to anything most survival recreations, it's sufficiently simple to comprehend what your different aptitudes are prepared to do, and the engram/making opens bode well generally. Yet, I don't feel like I've encountered a decent segment of what Ark: Survival Evolved brings to the table, so I'd get a kick out of the chance to develop this as the weeks pass by, and present extra musings and impressions throughout the months to come.
Ark: Survival Evolved certainly feels like an imperative ordeal, if for no other explanation than the size of the general diversion. And keeping in mind that I'd be unable to propose the amusement to players that aren't acquainted with the survival type, regardless I believe there's a something worth investigating here regardless of the possibility that survival diversions aren't exactly you're thing. So return in possibly 14 days as I develop these base impressions, and plunge further into what Ark: Survival Evolved brings to the table.