Once in a while the wedding of two unmistakable diversion classes just works, and I think The Metronomicon: Slay the Dance Floor is an entirely incredible case of that. Charged as a "Musicality RPG", Metronomicon takes the battle mechanics of prominent RPG titles like Final Fantasy, and joins that with a control technique likened to Dance Revolution or PaRappa the Rapper. Including an entire host of outside the box and chiptune melodic tracks, it's a shockingly powerful non mainstream discharge on Xbox One, PS4, and PC that I certainly believe merits looking at.
The essential idea is this. You'll assemble a 4 man gathering and go up against a progression of fights set to singular melodies over various universes. Each fight sets your gathering against various beasts, for the most part highlighting a smaller than normal supervisor, and you'll convey spells and assaults as you hit progressive notes in time with the beat. Each character has a vertically looking over rundown of directional contributions above them, and these rundowns are separated into levels. Finishing the primary level of melodic notes for one character may release a fundamental, minor physical assault, yet finishing level 2 could convey a solid, AOE fire spell.
You can likewise redo your gathering to some degree. As you progress through the story, you'll increase new characters with one of a kind capacities. As you step up, those characters can increase considerably more capacities. You would then be able to change the request of those capacities with a specific end goal to increment or abatement their adequacy, which is the place the previously mentioned levels become possibly the most important factor. Likewise, as you complete fights you'll pick up rigging to prepare, which will likewise enhance base details, increment essential protections, or simply have one of a kind modifiers joined.
There's truly a considerable measure of flawless, RPG mechanics stacked over the beat input gameplay in The Metronomicon: Slay the Dance Floor. What's more, fortunately that beat based gameplay works quite well. I played this only with a controller on PS4, however it features Rock Band 4 guitar bolster too. Be that as it may, a controller worked fine and dandy. With four directional data sources being utilized you can select to either utilize the D-Pad, confront catches, or a blend of the two, keeping in mind the end goal to execute the looking over information sources. You can likewise tweak the controls a lot keeping in mind the end goal to discover a format that functions admirably for you.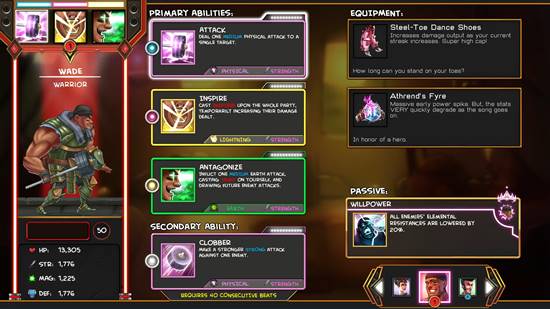 I likewise truly dove the melodic determination in The Metronomicon, regardless of the possibility that there were a great deal of craftsmen I wasn't that acquainted with. There's a truly vast rundown of melodies to look at, highlighting specialists like Perturbator, Shiny Toy Guns, Jimmy Urine and that's only the tip of the iceberg. Also, one perfect expansion to the settings is the capacity to turn on an element that'll really tell streamers and YouTubers which melodies the designer acquired spilling authorization for with a specific end goal to keep away from copyright strikes or playback issues, which is something I don't think I've found in an amusement earlier however appears like a sufficiently strong thought for those that appreciate broadcasting.
To the extent things I didn't burrow about The Metronomicon: Slay the Dance Floor, there's not a considerable measure. I wasn't altogether sold on the genuine character outlines, I appreciated the beast fine art a lot, however the plan of the player-controlled gathering didn't emerge to such an extent. I do like the general look of the amusement, it nails the neon-implanted gathering environment it's going for, and merges well with the music choice. I likewise thought the story side was somewhat tasteless. The cleverness failed for me, and the voice work wasn't especially vital. I welcome the endeavor at voicing the exchange, however I think it hurt more than it made a difference.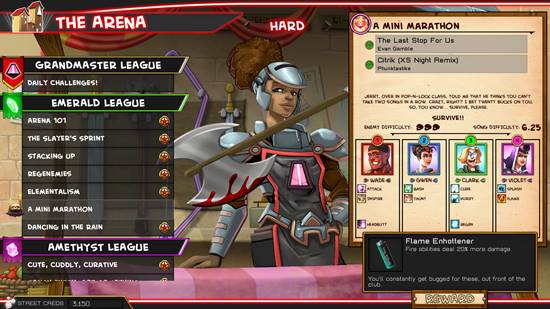 The main other issue I had was that I felt like the UI could be enhanced a tad. A portion of the messages were somewhat little and hard to peruse, which is likely less of an issue on the PC with a screen. In any case, a greater issue with the UI, at any rate for me, was having the capacity to tell what status impacts were presently profiting or tormenting my group, and what component the foe I was battling was solid against. It positively isn't difficult to see these things, yet the symbols could be greater, and possibly situated somewhat nearer to the looking over information sources so the player doesn't have to make their eyes off the move as frequently.
In any case, The Metronomicon: Slay the Dance Floor went from being a diversion that wasn't on my radar, to being one of the all the more charming mixes of computer game mechanics I've played throughout the entire year. The stellar soundtrack joined with a strong base of RPG trappings makes for a truly pleasant time, and something that I question numerous designers could stick the arrival on and in addition Akupara Games and PUUBA have done here.